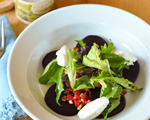 Prep: 15 min
Cook Time: 50 min
Total: 1 hr 5 min
Serving: 4 Servings
Roasted beets are sliced into thin rounds and then topped with a roasted red pepper and toasted nut mixture, followed by spring greens and dollops of goat cheese.
Ingredients
3 large (about 1 pound) beets
1 (12-oounce jar) roasted red peppers , chopped
1/2 cup toasted hazelnuts or almonds, chopped
1 shallot, chopped
3 tablespoons red wine vinegar
1 tablespoon extra-virgin olive oil plus extra to rub beets
1/2 teaspoon smoked or sweet paprika
1/4 teaspoon salt
1/4 teaspoon black pepper
8 ounces spring greens
5 ounces goat cheese
Preheat your oven to 425 degrees Fahrenheit.
Directions
Rub the beets with some olive oil and then wrap in aluminum foil. Roast the beets in the oven for 50 minutes and then peel and slice into thin rounds once cool enough to handle.
In the meantime, place the vinegar, oil paprika and a pinch of salt and pepper into a bowl and whisk vigorously to combine. Remove 2 tablespoons of the vinaigrette from the bowl and set aside. Add the red peppers, nuts and shallot to the bowl and toss to coat.
Place the greens and then remaining vinaigrette into a separate bowl and toss to coat.
Place the sliced beets onto a platter or individual plates, and top with the nut mixture, the greens and dollops of the goat cheese. Serve immediately.