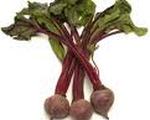 Prep: 15 min
Cook Time: 1 hr 30 min
Total: 1 hr 45 min
Serving: 8
Beet lovers will rejoice with refreshing Beet Salad.
Ingredients
2 pounds beets
1/4 cup olive oil
2 tablespoons sherry vinegar
1/2 teaspoon Dijon mustard
1/2 teaspoon honey
1/2 teaspoon salt
fresh ground pepper to taste
1 stalk celery, finely chopped
1 large shallot, finely chopped
Directions
Preheat oven to 400 degrees F. Divide beets between 2 pieces of foil; bring edges together and crimp to make packets. Roast until beets are just tender when pierced with the point of a knife, about 1 1/4 hours. Unwrap beets and let cool.
Meanwhile whisk oil, vinegar, mustard, honey, salt and pepper in a small bowl to make dressing.
When beets are cool enough to handle, slip off skins. Cut into 1/2 inch cubes and place in a large bowl. Add celery, shallot and the dressing; toss to coat well. Serve at room temperature or chilled.