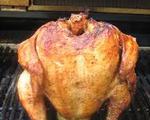 Prep: 10 min
Cook Time: 1 hr 15 min
Total: 1 hr 25 min
Serving: 6 Servings
This beer can chicken recipe gives the chicken a nice flavor while keeping it moist.
Ingredients
1 (4-pound) whole chicken
2 tablespoons vegetable oil
1 tablespoon salt
1 teaspoon black pepper
3 tablespoons Old Bay seasoning
1 can beer
Directions
Remove neck and giblets from chicken and discard. Rinse chicken thoroughly and dry with paper towels. Rub chicken lightly with oil and then rub inside and out with salt, pepper and Old Bay. Set aside.
Open beer can and pour half of the can out. Place beer can on a solid surface and pull chicken cavity, legs down, over the half-full beer can. Put the chicken on the grill by balancing the bird on its two legs and the beer can.
Cook the chicken over medium-high indirect heat (no burners in use directly under the chicken), with the grill cover on, for approximately 1 1/4 hours or until the internal temperature reaches 165 F in the breast area and the thigh juice runs clear when stabbed with a sharp knife. Remove chicken from grill and allow to cool for 10 minutes before carving.