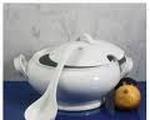 Prep: 35 min
Cook Time: 2 hr 30 min
Total: 3 hr 5 min
Serving: 12
A large bowl of Beefy Vegetable Soup will chase the winter chill away.
Ingredients
8 pounds crosscut beef shanks
salt
3 stalks celery, diced
3 large carrots, diced
2 onions, diced
1, 28 ounce can tomatoes
1/2 cup parsley, chopped
1/2 teaspoon dry basil
1/2 teaspoon dry thyme
1/2 teaspoon pepper
1, 10 ounce package frozen lima beans
1, 10 ounce package frozen corn
1, 10 ounce package frozen peas
Directions
In a very large kettle over high heat, heat beef shanks, 2 tablespoons salt and 10 cups hot water to boiling. Reduce heat to low; add remaining ingredients except frozen vegetables. Cover and simmer 2 hours.
Stir in frozen vegetables and 2 teaspoons salt; continue cooking about 30 minutes until meat and vegetables are fork tender.