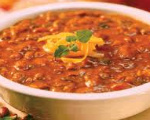 Prep: –
Cook Time: 50 min
Total: 50 min
Serving: 6 servings
A flavor packedd beef, vegetable and bean chili.
Ingredients
2 pounds lean ground beef
3 ribs celery, sliced
1 onion, chopped
1 bell pepper, seeded and chopped
2 teaspoons minced garlic
1 (15 ounce) can tomato sauce
3 tablespoons chili powder
2 (15 ounce) cans pinto beans with liquid
1-2 cups crushed tortilla chips
Directions
Cook and brown the beef in a large pot over medium heat. Mix in the celery, onion, bell pepper, and garlic. Cook only until the vegetables are tender, not browned, about 5 minutes.
Mix in the tomato sauce, chili powder, salt and pepper and 2 cups water. Bring to a boil, then simmer for 35 minutes.
Mix in the beans for the final 15 minutes of cooking. Serve with the crushed chips on top.