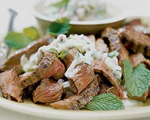 Prep: 10 min
Cook Time: 15 min
Total: 25 min
Serving: 4 Servings
Raita is a popular Indian side dish made from yogurt. It has both a cooling and spicy taste, making it the perfect accompaniment to grilled meat.
Ingredients
1 8-ounce carton Greek-style plain yogurt
1/4 cup coarsely shredded unpeeled cucumber
1 tablespoon finely chopped red or sweet onion
1 tablespoon snipped fresh mint
1/4 teaspoon sugar
Salt and freshly ground black pepper
1 pound boneless beef sirloin steak, cut 1 inch thick
1/2 teaspoon lemon-pepper seasoning
Fresh mint leaves to garnish
Directions
Preheat the oven broiler.
Place the yogurt, cucumber, onion, snipped mint, and sugar together in a bowl and mix until blended. Set Raita aside.
Season the meat with the lemon-pepper seasoning, and then place on a broiler rack. Cook the meat 4 inches from the heat for 15 minutes, turning once, for medium-rare doneness.
Cut the meat into thin slices and serve garnished with mint leaves and topped with the Raita.