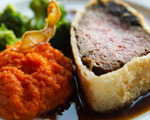 Prep: –
Cook Time: –
Total: –
Serving: 8 People
It is a Royal Dinner tonight when you serve this easy beef Wellington to your family. Lightly browned in a cast iron skillet, then wrapped in a beautiful puff pastry, your family will stand in honor of the queen of their home!
Ingredients
2 pounds beef tenderloin
1 teaspoon sea salt
1 teaspoon black pepper
5 tablespoons butter, sliced
1 pint mushroom slices
1/2 cup white onion, diced
1/3 cup red wine
1 sheet puff pastry, thawed
1 egg
1 teaspoon water
Directions
Preheat your oven to 400 degrees F.
Heat a cast iron skillet to medium high and add 3 tablespoons of the butter.
Add the salt and pepper to the beef tenderloin, then sauté the tenderloin on all sides, about 4 minutes total.
Remove the tenderloin and set it aside to cool.
Add the remaining butter to the cast iron skillet and sauté the onion. Then add the mushrooms, cooking them until they are soft.
Add the red wine and cook it until the wine reduces.
Remove the mixture from the heat and allow it to cool.
Roll the puff pastry out on a floured cutting board, then spoon the mushroom mixture down the center.
Beat the egg and water to make an egg wash.
Place the tenderloin on top of the mushrooms, then fold the puff pastry over the long ends first, tucking as though wrapping a present.
Seal with the egg wash, then fold the ends of the puff pastry. Brush the egg wash over the entire pastry.
Place the pastry on a cookie sheet (seam side down) by using two spatulas to transfer.
Bake for 45 minutes. Enjoy!