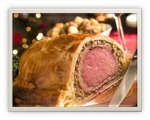 Prep: 45 min
Cook Time: 30 min
Total: 1 hr 15 min
Serving: Serves 10 people
A traditional dish, Beef Wellington, is typically reserved for special occasions like the holidays. A bit of work, but your guests will be overjoyed with this meal.
Ingredients
1 beef tenderloin (2 to 2-1/2 pounds)
Ground black pepper
Prepared puff pastry (1 sheet), thawed
1 egg
1 tablespoon water
1 tablespoon butter
1 tablespoon yellow mustard
2 cups finely chopped mushrooms
1 medium onion, finely chopped
Directions
Preheat oven to 425 degrees. Place the tenderloin into a lightly greased roasting pan. Season with black pepper. Roast for about 30 minutes. Meat thermometer should read 130 degrees. Cover the pan and refrigerate for about an hour. After cooling, brush the tenderloin with the yellow mustard.
In a small bowl, whisk the water and egg.
Heat the butter in a medium-sized skillet over medium-high heat. Add the mushrooms and onions, cooking until the mushrooms are tender. Stir often.
On a lightly floured surface, unfold the puff pastry. Roll it into a rectangle, about 4 inches longer and 6 inches wider than the tenderloin. Brush the pastry with the egg and water mixture.
Spoon the mushroom mixture onto the pastry sheet, leaving a one-inch border. Put the tenderloin in the center of the mushroom mixture. Fold the pastry around the tenderloin and press down to seal the pastry. Place the wrapped tenderloin on a baking sheet, seam-side down. Tuck the edges under the tenderloin to seal it like a package. Brush the pastry with the egg and water mixture.
Bake for about 25 minutes and the tenderloin is golden brown. A meat thermometer should read 140 degrees.