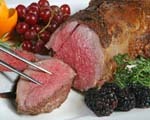 Prep: –
Cook Time: –
Total: –
Serving: Serves 8
Beef tenderloin is one of those roasts that is delicious as is or with a sauce of your choosing. And leftovers are spectacular for things like lunchtime sandwiches or a beef Caesar salad. Or just plain snacking -- for us, not a scrap is wasted.
Ingredients
1 (4 to 5 pound) beef tenderloin roast, preferably trimmed
4 to 6 cloves garlic, crushed
Kosher salt
Freshly ground black pepper
1 teaspoon or so rosemary
1 teaspoon or so thyme
Olive oil
Butcher's twine
Directions
The day before serving, examine your tenderloin and trim off any excess fat or tendons. Using a mortar and pestle, grind together the garlic, salt, pepper, rosemary, and thyme, using a little olive oil to smooth it along. Rub this mixture all over the tenderloin. Cover and refrigerate 24 hours.
Remove the tenderloin from the refrigerator an hour before roasting and let it come to room temperature. Preheat oven to 400 degrees F.
Tie up the tenderloin such that it is even in thickness, tucking up the thinner tail if necessary. Insert a probe thermometer into the thickest part of the roast and place in a shallow roasting pan.
Roast 35 to 45 minutes, or until the internal temperature reaches 120 degrees F. Loosely cover with foil and allow to rest for 15 minutes before carving. And that's it. You're done! Slice and serve.