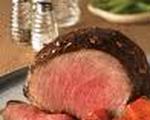 Prep: 15 min
Cook Time: 15 min
Total: 30 min
Serving: 4-6
A classic favorite Beef Stroganoff and egg noodles make the perfect homey meal.
Ingredients
1 1/2 pounds beef tenderloin, sliced thin
5 tablespoons butter, divided
1 large onion, sliced
1/2 pound fresh mushrooms, sliced
1/2 cup white wine
1 1/2 cups sour cream
2 tablespoons tomato paste
8 ounces wide egg noodles, cooked and drained
Directions
Saute beef slices in 3 tablespoons butter for 5 minutes. Remove meat from pan.
Add 2 tablespoons butter to pan and saute onions and mushrooms until tender. Return meat to pan and add wine, sour cream and tomato paste.
Cook over low heat until heated through, being careful not to boil. Serve over noodles.