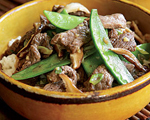 Prep: 25 min
Cook Time: 10 min
Total: 35 min
Serving: 4 Servings
Stir-fries are both quick to make and healthy to eat. Have traditional Chinese seasonings as staples in your pantry so you can make authentic tasting Chinese meals at the drop of a hat.
Ingredients
1 1-pound top sirloin steak, cut into 2-inch-long, 1/4-inch-thick slices
1 tablespoon Asian sesame oil
1 tablespoon minced peeled fresh ginger
12 ounces fresh shiitake mushrooms, stemmed, thickly sliced
8 ounces snow peas
1 bunch green onions, sliced, divided
1 cup fresh cilantro leaves, divided
5 tablespoons hoisin sauce
2 teaspoons chili-garlic sauce
1/4 teaspoon Chinese five-spice powder
Directions
Take your beef strips and season well with salt and pepper.
In a large sauté pan or wok, heat sesame oil over medium-heat and add ginger and mushrooms; stir-fry for approximately 3 minutes.
Place the beef in the pan and continue to stir-fry ingredients until beef is brown with a light pink center, about 1-2 minutes.
Drop in the snow peas, half of the green onions and half of the cilantro and stir-fry for 1 minute. Next, add the hoisin sauce, chili-garlic sauce and five-spice powder; stir-fry for an additional 1-2 minutes. Sprinkle mixture with salt and pepper.
Empty stir-fry into a large bowl and add remaining green onions and cilantro.