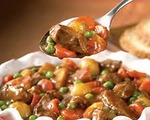 Prep: 15 min
Cook Time: 3 hr 15 min
Total: 3 hr 30 min
Serving: 5
Beef Stew with Onions needs a pile of hot, buttery mashed potatoes!
Ingredients
2 pounds lean beef, cubed
1/2 cup butter
18 small whole onions, peeled
1 large can tomatoes
1 teaspoon pickling spices
1 tablespoon wine
salt and pepper to taste
Directions
Saute beef in large skillet for 15 minutes. Add butter and cook for 5 minutes, browning on all sides. Place beef in large saucepan. Brown onions lightly in skillet. Remove onions and reserve. Add tomatoes to skillet; cook for 5 minutes. Pour over beef in saucepan.
Add last 4 ingredients with 3 cups hot water, mixing well. Bring to a boil, cover and reduce heat. Cook for 1 1/2 hours or until meat is tender. Add onions. Cook for 1 hour longer.