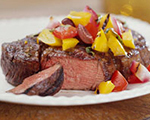 Prep: 15 min
Cook Time: 20 min
Total: 35 min
Serving: 6
The yellow pepper and onion relish adds a delicious, sweet and savory flavor to the grilled steaks in this Italian-inspired dish.
Ingredients
1/4 cup seasoned bread crumbs
1/4 cup Parmesan cheese, grated
1 tablespoon fresh parsley, snipped
1/4 teaspoon salt
Freshly ground pepper to taste
1 egg, beaten
1 tablespoon water
3 cloves garlic, minced
6 beef tenderloin steaks (1 to 1-1/4 pounds), cut 1/2-inch thick
2 tablespoons olive oil
3 yellow bell peppers, cut into narrow strips
2 large onions, thinly sliced and separated into rings
1 sprig fresh rosemary
3 tablespoons red wine vinegar
1 tablespoon butter
Directions
Place the bread crumbs, Parmesan cheese, parsley, salt and black pepper in a shallow bowl and mix. Set aside.
In another shallow bowl, mix together the egg and the water with a fork until frothy. Set aside.
Rub 1/2 of the garlic over each steak and then dip each steak in the egg mixture and then dredge in the breadcrumb mixture to coat.
Heat one tablespoon of oil in a large frying pan over medium-high heat and sauté the remaining garlic, peppers, onion and rosemary for two minutes. Cover the pan and cook for 12 additional minutes, stirring occasionally.
In another large frying pan, melt the butter and remaining oil over medium-high heat and then add the steaks. Cook for about six minutes on each side, turning once, for a medium internal temperature.
Place the cooked steaks on a plate and spoon over the pepper and onion relish after removing and discarding the rosemary sprig. Serve immediately.