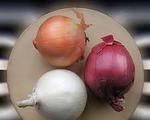 Prep: 15 min
Cook Time: 25 min
Total: 40 min
Serving: 6
Beef Steaks Bistro-Style are covered with baby portobello mushrooms and flavored with rosemary.
Ingredients
2 garlic cloves, crushed
3 boneless beef top loin or rib eye steaks, cut 1 inch thick
1/2 teaspoon salt
1/2 teaspoon coarsely ground black pepper
2 tablespoons butter
3 cups baby portobello mushrooms, sliced
1 large onion, thinly sliced, cut in half
2 tablespoons balsamic vinegar
2 tablespoons fresh snipped rosemary
Directions
Heat a large skillet over medium heat 5 minutes. Meanwhile, spread garlic cloves crushed with a press evenly over both sides of steaks; sprinkle with salt and pepper.
Place steaks in skillet; cook 12 to 15 minutes for desired doneness. Turning once with tongs. Remove steaks from skillet; keep warm.
Melt butter in skillet over medium-high heat. Add mushrooms, onion, vinegar and rosemary. Cook and stir 5 to 8 minutes or until onions are tender; serve over steaks.