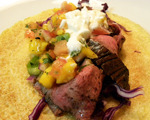 Prep: 25 min
Cook Time: 1 hr 45 min
Total: 2 hr 10 min
Serving: 6
Beef Steak and Tortilla Bake uses round steak cut into strips.
Ingredients
1 1/2 pounds round steak, cut 3/4 inch thick
2 tablespoons shortening
1 1/2 teaspoons salt
1/8 teaspoon pepper
1, 4 ounce can mushrooms
1, 15 ounce can tomato sauce
1, 10 ounce can mild enchilada sauce
1 cup onion, finely chopped
1 clove garlic, crushed
1, 10 ounce package corn tortillas
1 cup Cheddar cheese, shredded
Directions
Slice steak into 2 by 1/8 inch pieces. Brown in shortening in skillet. Pour off pan drippings. Season with salt and pepper. Drain mushrooms, reserving liquid. Add enough water to reserved liquid to measure 1 1/4 cups. Add to steak. Cook tightly covered, over low heat for 1 hour.
Add mushrooms, tomato sauce, enchilada sauce, 1/2 cup onion and garlic, mixing well. Cook covered, for 20 minutes longer.
Dip tortillas in hot sauce mixture. Place 2 teaspoons onion on one side and roll up. Arrange in 9 by 13 inch baking dish. Stir in 3/4 cup cheese into remaining sauce. Spoon around rolled tortillas. Sprinkle with remaining cheese.
Bake tightly covered, at 350 degrees for 10 minutes or until heated through.