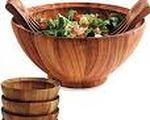 Prep: 25 min
Cook Time: 1 hr
Total: 1 hr 25 min
Serving: 4
A delicious and different way to have steak. Tender Beef Salad Supper will satisfy meat lovers.
Ingredients
4 medium potatoes
water
3 eggs
1 beef top round steak cut 1 inch thick, about 1 pound
salt
1/4 cup vegetable oil
3 tablespoons red wine vinegar
1 tablespoon prepared mustard
1 teaspoon sugar
1/4 teaspoon freshly ground black pepper
1/4 teaspoon basil
1 small head lettuce
1 medium zucchini, sliced thin
1, 6 ounce bag radishes
Directions
In 2 quart saucepan over high heat, heat unpeeled potatoes and enough water to cover to boiling; Reduce heat; cover and cook 25 to 30 minutes until potatoes are fork tender. Cut unpeeled potatoes into slices. In small saucepan, hard-cook eggs.
Meanwhile, preheat broiler. Place beef steak on rack in broiling pan; sprinkle with salt. Broil steak 10 minutes or until desired doneness, turning steak once. Remove to cutting board. Slice steak into 1/8 inch thick slices.
Remove shells from hard cooked eggs. Separate yolks from whites; coarsely chop whites; set aside. In blender at medium speed, blend egg yolks, oil, vinegar, mustard, sugar, pepper, basil and 1/2 teaspoon salt until dressing is smooth.
To serve, arrange lettuce leaves, sliced steak, sliced potatoes, chopped egg whites, zucchini, and radishes on four dinner plates. Pass salad dressing.