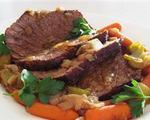 Prep: 20 min
Cook Time: 2 hr
Total: 2 hr 20 min
Serving: 8 Servings
This easy recipe can be made a day ahead and can be served with over-roasted potatoes, carrots or a side dish of your choice.
Ingredients
4 pounds boneless chuck roast
2 teaspoons olive oil
1 onion, coarsely chopped
2 cloves garlic, minced
2 bay leaves
1/2 teaspoon freshly ground black pepper
1 teaspoon salt
Directions
Preheat oven to 325 F.
Heat a Dutch oven over medium high heat. Add oil, and sear meat in the center of the pan for 4 minutes. Flip meat over with tongs and sear all sides for 3 to 4 minutes each. Remove meat from Dutch oven.
Place garlic, onion and 1 bay leaf in the bottom of the pan and sprinkle with salt and pepper. Return meat to pan, place second bay leaf on top of meat, and cover.
Cook meat in the oven for 30 minutes at 325 F and then lower the temperature to 300 F and cook for 1 1/2 hours.
When finished, move roast to a platter and allow to cool for 10 to 15 minutes before slicing.