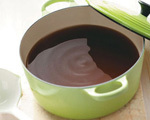 Prep: 2 hr
Cook Time: 7 hr
Total: 9 hr
Serving: 8 servings
Making your own beef broth from scratch creates a rich, flavorful broth that can be used in soups and sauces.
Ingredients
4 pounds cracked Beef Marrow, Shin, and/or Shank Bones, with meat on them
1 large Onion, cut into wedges
4 Ripe Plum Tomatoes, cut in half (optional)
1 Carrot, cut up
2 Celery stalks, cut up
1 Leek, split lengthwise, washed well, cut up
10 Black Peppercorns
Bouquet Garni (3 sprigs Fresh Parsley, 1 sprig Fresh Thyme, 2 Fresh Sage Leaves, and 1 Bay
Leaf tied together in cheesecloth)
4 quarts Cold Water
Salt and Fresh Ground Black Pepper, to taste
Directions
Place the beef bones, onion wedges, tomatoes, carrot, celery, leek, peppercorns, bouquet garni, and water into a pot over medium heat and bring to a boil.
Once the mixture is boiling, reduce the heat to low and simmer for 7 hours, skimming any foam off the top and discarding.
Strain the both using cheesecloth and discard the remaining solids.
Add a few pinches of salt and pepper to the broth and then allow to cool before placing into the refrigerator to chill.
Before using the broth, skim off any fat from the top and discard.