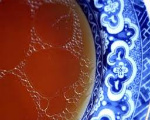 Prep: 1 hr
Cook Time: 3 hr
Total: 4 hr
Serving: 6 servings
Homemade beef bouillon recipe.
Ingredients
2 1/2 pounds stewing beef
2 quarts water
1/2 cup celery
1/2 cup onion
1/2 cup carrots
1 clove
1 teaspoon salt
1/4 teaspoon pepper
Directions
Cube the beef and cover with the water in a large pot. Mix in the salt and bring to a boil. Cover. Simmer for 2 hours.
Mix in the remaining ingredients and simmer for another hour. Add more water if needed.
Strain. Cool. Skim away the excess fat. Reheat and serve warm.