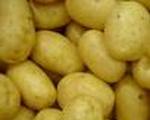 Prep: 15 min
Cook Time: 35 min
Total: 50 min
Serving: 4
Beef and Vegetable Kabobs are grilled to perfection.
Ingredients
2 1/2 pounds beef sirloin, cut into 1 inch cubes
4 medium potatoes
2 medium bell peppers, cut into 24 pieces
1/3 cup butter, melted
1 clove garlic, minced
1/8 teaspoon hot pepper sauce
Directions
Cook potatoes in 2 inches of water in covered saucepan, 15-20 minutes; cut into quarters.
Cut beef sirloin into 16 1 inch cubes. Alternately thread six green pepper pieces, four beef cubes and four potato pieces on each of four metal skewers.
Combine butter, garlic and hot pepper sauce. Place kabobs on grill over low to medium coals and broil for 10-15 minutes, depending on desired doneness turning and brushing with seasoned butter occasionally.