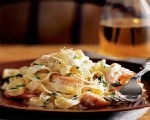 Prep: 10 min
Cook Time: 25 min
Total: 35 min
Serving: Serves 4 people
A traditional pasta alfredo recipe, Beef and Vegetable Alfredo gets a makeover by lowering the fat and adding veggies and protein.
Ingredients
8 ounces of linguini
2 teaspoons of olive oil
3 cloves of garlic, minced
2 teaspoons of flour
1 cup of skim milk
2 ounces of low-fat swiss cheese, grated (about 1 cup)
Olive oil cooking spray
6 ounces of lean flank steak, thinly sliced
1/4 teaspoon of salt
1 teaspoon of lemon zest
2 cups of baby spinach leaves, packed
1 small zucchini, cut into matchstick slices
2 cups of frozen peas, thawed
Fresh basil to garnish
Directions
Cook the linguini according to the instructions on the box. Drain and set aside.
Using the pot the linguini was cooked in over medium heat, add the 2 teaspoons of olive oil and the garlic. Cook until the garlic turns golden (about 2 minutes). Add the flour and cook for 2 more minutes, and mash the garlic with the back of your spoon, forming a thick paste. Add the milk and whisk together. Bring the mixture to a simmer over low heat, and cook for about 2-3 minutes, until thickened. Stir in the cheese and remove from the heat. Set the mixture to the side.
Coat a large skillet with the olive oil cooking spray. Season the steak with salt and lemon zest. Add it to the skillet and cook, stirring, over high heat for 1-2 minutes until the steak begins to brown.
Add the vegetables and cook until the spinach wilts and the steak is cooked through (about 2 minutes).
Toss the steak and vegetable mixture with the linguine and serve immediately. Garnish with the basil.