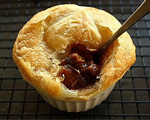 Prep: 1 hr
Cook Time: 2 hr 30 min
Total: 3 hr 30 min
Serving: Serves 4
Celebrate St. Patty's Day with this savory treat made with chunks of spicy beef in a rich Guinness beer sauce.
Ingredients
2 pounds boneless beef chuck, cut into 1-inch pieces
2 tablespoons all-purpose flour
1 teaspoon salt
1/2 teaspoon freshly ground black pepper
2 tablespoons vegetable oil
1 large onion, coarsely chopped
2 garlic cloves, chopped
3 tablespoons water
1-1/2 tablespoons ketchup
1 cup beef broth
1 cup Guinness or other Irish stout
1 tablespoon Worcestershire sauce
2 teaspoons drained brined green peppercorns, coarsely chopped
2 fresh thyme sprigs
Rough puff pastry dough
1 large egg, lightly beaten
1 tablespoon water
Directions
Preheat your oven to 350 degrees.
In a shallow dish, mix together the flour, salt and pepper; set aside.
Heat the vegetable oil in a large oven-safe sauté pan over medium-high heat. Dredge pieces of beef in the flour mixture and brown meat on all sides for about 5 minutes. Place on plate and set aside.
Place the onion, garlic and the water into the sauté pan. Use a spatula to lift off any bits of food stuck to the bottom of the pan. Stir in the ketchup and continue to sauté the ingredients until the onion becomes soft and translucent.
Add the browned meet to the pan along with the broth, beer, Worcestershire sauce, peppercorns, and thyme; mix well. Once the mixture begins to simmer, cover the pan and place in the oven for about 1-1/2 hours.
Remove meat mixture from oven, take out the thyme and allow to cool completely.
Increase the oven temperature to 425 and place a medium-sized baking pan in the oven.
Lightly flour a large clean surface and roll out the pastry dough into a 13-inch square that is approximately 1/8-inch in thickness, and then cut the dough into quarters.
In a small bowl mix together the egg and the water. Ladle the meat mixture into 4 large ramekins and then brush a 1-inch border of the egg mixture around each square. Place the dough squares over the ramekins with egg-brushed side facing down, and press sides around ramekin to close. Brush the tops of the pastries with the remaining egg mixture and then freeze ramekins for 15 minutes in order to chill the dough.
Place pies in the preheated baking pan and bake for 20 minutes. The pastry will puff out and will become golden brown. Immediately reduce the oven temperature to 400 degrees and bake for 5 additional minutes. Remove from oven and serve.