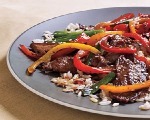 Prep: 20 min
Cook Time: 15 min
Total: 35 min
Serving: Serves 4 people
This is a quick meal that is great for a busy night. Colorful and delicious, Beef and Bell Pepper Stir Fry can be served over rice with a side of beans for a great dinner.
Ingredients
1 pound of top sirloin or chuck steaks, trimmed
Salt and freshly ground pepper
1 large garlic clove, minced
Olive oil
1 tablespoon of toasted sesame seeds
2 medium bell peppers (use red, green, orange and yellow) sliced into 1/4-inch strips
1/2 yellow onion, thinly sliced lengthwise
1 large tomato, roughly chopped
1 tablespoon Worcestershire sauce
Directions
Season the steaks with salt and pepper. Rub the minced garlic over them on both sides. Put the seasoned steaks between two sheets of plastic wrap. Pound the steaks until they're about 1/4 inch thick. Leave the steaks for about 10 minutes so they can absorb the seasoning. Cut them across the grain into 1/2 inch strips.
While you wait for the steak to absorb the seasoning, heat 2 tablespoons of oil in a large skillet over medium-high heat. Add the onions and bell pepper, stirring, and cook until almost tender (about 1-2 minutes). Add the tomato and cook for another minute. Remove vegetables and set aside in a bowl.
Heat 2 tablespoons of oil in the skillet on medium-high heat. Add the beef and let it brown without stirring. Once the beef begins to brown, stir it and cook for about 2-4 minutes. Add the peppers, onion and tomato to the beef. Add the Worcestershire sauce and cook, stirring, for another 30 seconds or so. Toss in the toasted sesame seeds. Remove from the heat. Serve on top a bed of rice and with beans as a side dish.