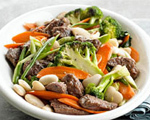 Prep: 10 min
Cook Time: 10 min
Total: 20 min
Serving: 4 Servings
Adding beans to a classic stir fry adds new texture and taste. Don't hesitate to substitute the cannellini beans for the beans of your choice.
Ingredients
2 tablespoons olive oil
1 pound boneless beef top loin steak, trimmed of fat and cut in thin strips
2 cloves garlic, minced
1 teaspoon chopped fresh ginger
2 carrots, thinly diagonally sliced
3-1/2 cups broccoli florets (8 oz.)
6 green onions, cut in long thin strips
1/4 cup freshly squeezed orange juice
2 tablespoons reduced-sodium soy sauce
1/4 teaspoon crushed red pepper
115-ounce can cannellini beans
Directions
Place a large wok or sauté pan over medium-high heat and add 1 tablespoon of the olive oil.
Once the oil begins to shimmer, add the beef, garlic and ginger and stir-fry for 3 minutes, stirring frequently.
Remove the beef mixture from the skillet, add the remaining oil and the green onions and cook for 1-1/2 minutes.
Stir in the orange juice, soy sauce and red pepper, and then transfer the beef back to the pan. Toss the mixture to combine and then cook until heated through. Serve immediately.