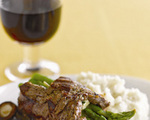 Prep: 20 min
Cook Time: 1 hr
Total: 1 hr 20 min
Serving: Servings: 4
This easy beef and asparagus recipe is a great way to impress dinner guests without all of the fuss.
Ingredients
1 pound asparagus
1/4 cup extra-virgin olive oil
2 cloves garlic, chopped
1/2 pound mixed mushrooms, stemmed
Salt and pepper
1, 1 1/2-pound piece center-cut beef fillet
6 ounces Brie or goat cheese
1/2 tablespoon fresh thyme leaves
Directions
In a large saucepan, add enough salted water to reach a depth of 2 inches and bring to a boil. Add the asparagus and cook until crisp-tender, about 3 minutes. Drain and rinse with cold water, then pat dry with paper towels.
In a nonstick medium skillet, heat 1 tablespoon olive oil over medium heat. Add the garlic and cook, stirring, until golden about 2 minutes. Add the mushrooms, season with salt and pepper and cook, stirring, until tender, about 5 minutes. Cover to keep warm.
Preheat a grill or grill pan to medium-high. Cut the beef crosswise into 4 equal portions and pound 1/3-inch thick. Season with salt and pepper, then spread a quarter of the cheese in the center of each portion, leaving a 3/4-inch border.
Divide the thyme and asparagus equally among each portion. Drizzle each with a teaspoon of olive oil, roll up the meat around the asparagus and secure with toothpicks.
Pour the remaining olive oil on a plate and season with salt and pepper. Turn each beef roll in the oil to coat, cover and grill until the cheese is melted, about 10 minutes for medium-rare.
To serve, divide the mushrooms among 4 plates and top each with a beef-asparagus roll.