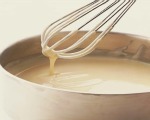 Prep: 5 min
Cook Time: 10 min
Total: 15 min
Serving: Makes about 1-1/4 cups of sauce
Bechamel Sauce is a classic French white sauce known as the "Mother of all Sauces" because of its versatility. Used as a base sauce, you can add other ingredients to Bechamel to create another sauce altogether.
Ingredients
2 tablespoons butter
2 tablespoons flour
1-1/4 cups of milk, heated
Salt and pepper to taste
Pinch of nutmeg
Directions
In a heavy saucepan over medium-high heat, melt the butter. Be sure to use a whisk for best results and add in the flour and cook, whisking constantly, until the paste cooks and bubbles slightly (be sure not to let it brown). In a separate saucepan over high heat, heat the milk until it almost reaches a boil. Add the hot milk slowly to the other mixture, constantly whisking, as the sauce thickens. Bring this mixture to a boil. Add the salt, pepper and nutmeg. Lower the heat and and cook, whisking, for another 2-3 minutes. Remove the mixture from the heat. This sauce can be stored in the refrigerator overnight before using.