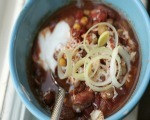 Prep: 15 min
Cook Time: 55 min
Total: 1 hr 10 min
Serving: Serves 4 people
A versatile chili recipe, Bean and Bulgur Chili is filling and meat-free. Use any combination of beans and serve with tortilla chips and sour cream.
Ingredients
1 tablespoon of oil
1 medium carrot, chopped
1 medium green bell pepper, chopped
1 medium onion, chopped
2 garlic cloves, minced
2 cups of water
1/2 cup of uncooked bulgur
1, 14.5-ounce can of diced tomatoes, undrained
1, 8-ounce can of tomato sauce
3 teaspoons of chili powder
2 teaspoons of cumin
1, 15-ounce can of red kidney beans, drained and rinsed
1, 15-ounce can of black beans, drained and rinsed
Tortilla chips
Sour cream
Directions
Over medium-high heat in a 4-quart sauce pan, add the oil and heat until hot. Add the carrot, pepper, onion and garlic and cook, stirring, for about 4 minutes.
Stir in the remaining ingredients and bring to a boil. Reduce heat to low, cover and simmer for about 45 minutes or until the bulgur and vegetables are tender. Stir the mixture frequently to ensure the bulgur doesn't stick to the bottom of the pan.
Serve with tortilla chips and sour cream as your garnishes.