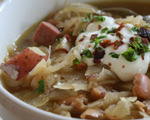 Prep: 10 min
Cook Time: 15 min
Total: 25 min
Serving: 4 Servings
One bowl of this homemade, hearty and satisfying soup and you will never open another can of prepared soup again. Serve with thick slices of rustic bread slathered with fresh butter.
Ingredients
4 slices bacon
1 tablespoon olive oil
1-1/2 cups chopped onion
2 large cloves garlic, minced
1 cup beer
2-1/2 cups beef broth
1 pound sauerkraut
1/2 pound smoked turkey sausage
3/4 pound potatoes, cut into small cubes
1 (15-ounce) can pinto beans, rinsed and drained
Sour cream or plain Greek yogurt for serving
Chopped parsley for serving
Directions
Place the bacon in a large soup pan over medium-high heat and fry until crisp. Remove the bacon with a slotted spoon and place on a plate lined with paper towels. Crumble once cool enough to handle.
Add the oil to the pan with the bacon fat and then stir in the onions. Sauté the onions over medium heat for 5 minutes and then stir in the beer, broth, sauerkraut, sausage, potatoes and beans. Bring the mixture to a boil and then cook over medium-low heat until the potatoes are tender.
Season the soup with salt and pepper to taste, and then ladle into bowls. Top each serving with a dollop of sour cream, some crumbled bacon and chopped parsley; serve immediately.