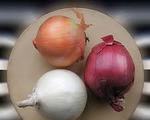 Prep: 15 min
Cook Time: 1 hr 30 min
Total: 1 hr 45 min
Serving: 6
BBQ Beefies are served with homemade barbecue sauce.
Ingredients
1 egg, beaten
1 cup milk
1 cup soft bread crumbs
1/4 teaspoon pepper
1 teaspoon celery salt
1/2 teaspoon Worcestershire sauce
2 tablespoons onion, chopped
1 1/2 pounds ground beef
1 large onion, sliced
Barbecue Sauce: 1/2 cup ketchup
1 cup water
1 1/2 teaspoons salt
1/4 teaspoon tabasco sauce
1/4 teaspoon chili powder
Directions
Combine egg and milk. Pour over bread crumbs. Add remaining ingredients, except onion slices. Mix well and shape into patties. Place in greased shallow pan. Put a large slice of onion on each patty.
Combine sauce ingredients and pour 1/2 over patties. Bake at 350 degrees F for 1 1/2 hours. Baste patties with remaining sauce.