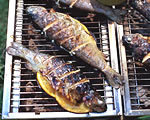 Prep: 30 min
Cook Time: 14 min
Total: 44 min
Serving: 6
You will need a wire grill for this recipe.
Ingredients
2 pounds bass fillets
1/2 cup salad oil
1/2 cup sesame seed
1/3 cup freshly squeezed lemon juice
1/3 cup cognac
3 tablespoons soy sauce
1 tespoon slat
1 clove garlic, crushed.
Directions
Place fillets in a single layer in a shallow bowl.
Combine other ingredients and pour over fish.
Let stand for 30 minutes, turning once.
Remove fish and reserve sauce for basting.
Place fish on well greased wire grills.
Cook for 8 minutes on barbecue grill about 4 inches from moderately hot coals.
Baste while fish is cooking.
Turn and cook for about 7 more minutes on other side.
Serve remaining sauce with fish.