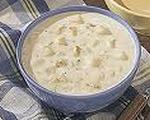 Prep: 15 min
Cook Time: 20 min
Total: 35 min
Serving: 4
Bay Scallop Chowder is creamy and crammed with vegetables and plump bay scallops.
Ingredients
2 tablespoons butter
1 onion, chopped
1/2 cup carrots, chopped
1/2 cup celery, chopped
1 cup red potatoes, unpeeled and chopped
1/4 teaspoon dried oregano
2, 8 ounce bottles clam juice
1 pound bay scallops
2 cups half-and-half
1/4 teaspoon salt
1/4 teaspoon black pepper, freshly ground
1/2 cup fresh parsley, chopped
Directions
Melt butter in a large saucepan. Add onion, carrots, celery, bell pepper, potatoes and oregano. Saute 10 minutes. Add clam juice and scallops. Cook 5 minutes. Add half and half, salt and pepper; cook until thoroughly heated. Stir in parsley.