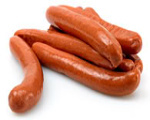 Prep: 15 min
Cook Time: 30 min
Total: 45 min
Serving: 5-6 servings
Creamy Frankfurter and sauerkraut dinner.
Ingredients
8-10 frankfurters
1 (10.75 ounce) can cream of mushroom soup
1/2 cup mayonnaise
1 teaspoon caraway seeds
1 (1 pound) can sauerkraut, drained
4 cups diced cooked potatoes
1/2 cup buttered soft bread crumbs
1/4 teaspoon paprika
Directions
Cut 4 of the franks in half. Cut the remaining into 1/4 inch thick pieces.
Combine the soup and mayonnaise. Divide in half.
Mix in the franks pieces with half of the soup mixture. Add in the caraway seeds and kraut. Spread into an 11x7 baking dish.
Combine the remaining soup with the potatoes. Spread around the edges of the baking dish.
Mix together the bread crumbs with the paprika and sprinkle on top of the potatoes. Place the halved franks on top of the casserole.
Bake at 350 degrees Fahrenheit for 30 minutes.