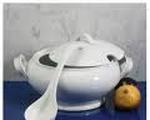 Prep: 15 min
Cook Time: 1 hr 50 min
Total: 2 hr 5 min
Serving: 8
Basque Lamb Stew is a hearty combination of meat, beans and macaroni in a herbed tomato gravy.
Ingredients
2 tablespoons vegetable oil
2 onions, sliced
1 garlic clove, crushed
1 pound lamb for stew, cut into 1 inch chunks
1, 28 ounce can tomatoes
1 teaspoon salt
1/4 teaspoon pepper
1/4 teaspoon rosemary, crushed
water
1, 8 ounce package elbow macaroni
4 large carrots
1, 10 ounce package frozen Brussels sprouts, slightly thawed
1, 15 to 20 ounce can red kidney beans
1 tablespoon flour
Directions
In 5 quart Dutch oven over medium heat, in hot oil, cook onions and garlic until tender, stirring occasionally. With slotted spoon, remove mixture to small bowl.
In drippings remaining in Dutch oven over medium-high heat, cook lamb until browned on all sides. Return onion mixture to Dutch oven; stir in tomatoes with their liquid, salt, pepper, rosemary, and 2 1/4 cups water; over high heat, heat to boiling. Reduce heat to low; cover and simmer 40 minutes.
Meanwhile, cook macaroni as package directs; drain.
Cut each carrot crosswise in half; cut each half lengthwise into 4 pieces; add to simmering liquid in Dutch oven. Cover and cook 30 minutes.
About 15 minutes before carrots are done, cut each Brussels sprout in half; add to stew; cover and cook until meat and vegetables are tender. Skim off fat from liquid in Dutch oven.
Add cooked macaroni and kidney beans with their liquid to stew. In cup, stir flour and 2 tablespoons water; stir into liquid in Dutch oven. Cook, stirring constantly, until liquid is slightly thickened and macaroni and beans are heated through.