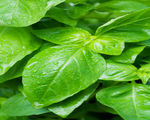 Prep: 5 min
Cook Time: –
Total: 5 min
Serving: 16
This is one of my favorite flavored vinegars that makes a fragrant vinaigrette with the addition of fruity olive oil. Try it drizzled on fresh fruit for a energizing snack.
Ingredients
Handful of basil leaves, bruised
3 cinnamon sticks
Peel of one orange (just the peel, not the white)
2 cups white wine vinegar
Directions
Combine the ingredients in a sterilized glass bottle or jar.
Seal and store in a cool, dark place for at least 3 weeks, shaking occasionally.
The longer the vinegar sits, the stronger the flavors will be.
You may strain the vinegar to remove the basil leaves, cinnamon sticks and orange peel but you may also want them in the bottle or jar for longer lasting flavor. The ingredients will break down eventually and can be replaced with fresh.
Be sure they are fully immersed by adding more vinegar to the bottle or jar as needed.
If flavors become too strong, dilute with more vinegar.
When ingredients lose color or begin to deteriorate or if giving as a gift, strain vinegar of solids, transfer back into bottle and insert fresh basil leaves, cinnamon sticks and orange peel.