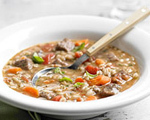 Prep: 10 min
Cook Time: 20 min
Total: 30 min
Serving: 4 Servings
Barley-based soups are both hearty and delicious and especially satisfying on cold winter days and nights. Serve with some freshly baked peasant bread.
Ingredients
1 pound boneless sirloin steak, cut into 1/2-inch peices
1/4 cup all-purpose flour
Sea salt and freshly ground pepper
1 tablespoon dried basil, crushed
1 tablespoon vegetable oil
1 cup quick-cooking barley
1 14.5-ounce can diced tomatoes with basil, garlic, and oregano
1 cup packaged peeled fresh baby carrots, bias sliced
1 cup lower-sodium beef broth
Directions
Place the flour, basil, and a few pinches of sea salt and freshly ground pepper in a small dish and mix to combine. Add the pieces of steak and toss to coat.
Place a large soup pot over medium-high heat and then add the oil. Once hot but not smoking, add the meat to the pot and brown, stirring frequently, for about 6 minutes and then stir in the barley, tomatoes, carrots, broth and 3 cups of water.
Bring the mixture to a boil and then reduce heat and simmer, covered, for 10 minutes. Ladle into bowls and serve hot.