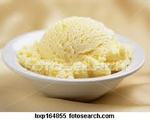 Prep: 8 hr 15 min
Cook Time: 15 min
Total: 8 hr 30 min
Serving: 6
This Basic Ice Cream recipe can be flavored any way you want for a fantastic homemade treat. Add 12 ounces semisweet chocolate chips into the sugar mixture before adding eggs for superb chocolate flavor.
Ingredients
2 quarts milk
1 cup flour
1/2 teaspoon salt
3 cups sugar
10 egg yolks, well beaten
3 large cans evaporated milk
3 tablespoons vanilla extract
1 teaspoon lemon extract
Directions
Combine 1 quart milk and next 3 ingredients in double boiler. Cook until thick, stirring constantly. Stir a small amount of hot mixture into egg yolks. Add hot mixture to egg yolks gradually, beating constantly. Chill in refrigerator until cool.
Pour into a 6-quart ice cream freezer container. Add remaining 1 quart milk, evaporated milk, vanilla and lemon.
Freeze using freezer directions.