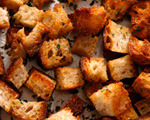 Prep: 10 min
Cook Time: 10 min
Total: 20 min
Serving: Makes 4-6 servings
Croutons add such wonderful flavor and crunchy texture to soups and salads that it would be a shame to omit them from any dish.
Ingredients
2 tablespoons unsalted butter or olive oil
3 cups large-dice crusty bread (from about 3, 1/2-inch slices)
Sea salt and freshly ground black pepper
Directions
Preheat your oven to 425 degrees.
Place the butter or the olive oil into a large oven-safe sauté pan over medium-high heat. Once hot, add the diced bread and stir well to coat, then sprinkle with a few generous pinches of salt and pepper.
Transfer the sauté pan to the oven and bake the croutons for 10 minutes, stirring once halfway through the cooking time.