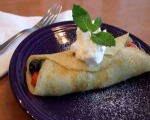 Prep: 10 min
Cook Time: 25 min
Total: 35 min
Serving: Serves 4-6 people
Basic Crepes Batter is a delicious & versatile recipe. This thin pancake can be filled with just about anything yummy from your fridge, sweet or savory. This is the recipe for the "pancake" only. Fill at your will. These can be made ahead of time.
Ingredients
1 cup all-purpose flour
1 tablespoon sugar
1/4 teaspoon coarse salt
1-1/2 cups milk
4 large eggs
3 tablespoons unsalted butter, melted
Directions
Use a blender to puree the flour, sugar, salt, milk, eggs and butter until smooth. Allow the batter to sit at room temperature for 15-20 minutes. The batter can be stored in the refrigerator overnight in an airtight container if you're making the next day.
Lightly coat a medium-to-large saute pan over medium heat. Add a little batter so that the bottom of the pan is entirely covered. Cook until golden, about 2-3 minutes.
When the bottom is golden, lightly lift the edge with a spatula. Use your finger to gently flip the crepe and cook for about another minute. When cooked, slide the crepe off the pan and fill with your favorite ingredients.