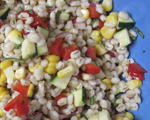 Prep: 10 min
Cook Time: 45 min
Total: 55 min
Serving: Serves 6 to 8
It is important to note that although barley is not a wheat product, it still contains a form of gluten that may or may not bother those with an intolerance.
Ingredients
1 cup raw pearl barley
1 cup red pepper, diced (about 1 pepper)
1-1/2 cups fresh, cooked corn kernels (from about 2 ears)
1 cup zucchini, diced
1/2 cup red onion, diced
1/4 cup sherry vinegar or lemon juice
1 garlic clove, finely minced
1/2 cup olive oil
Salt and fresh pepper
1/4 cup fresh basil, finely chopped
1/4 cup fresh parsley, finely chopped
2 tablespoons mint, finely chopped
Directions
Cook the barley according to package directions and then set aside to cool.
In the meantime, combine the vinegar, garlic and oil in a bowl by whisking vigorously to blend.
Once cool, place the barley into a large bowl and then add the red pepper, corn, zucchini, red onion, basil, parsley, mint and a few pinches of salt and pepper. Add the dressing to the mixture and then toss gently to combine.