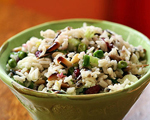 Prep: 20 min
Cook Time: 30 min
Total: 50 min
Serving: 4 Servings
A great compliment to chicken or lamb, this light side dish is both delicious and healthy. Enjoy year round as a side to your favorite meals.
Ingredients
1-3/4 Cups Chicken Broth
1 Box uncooked White and Wild rice mix including spice packet
1/2 Cup uncooked Pearl Barley
3/4 Cup rinsed and drained Garbanzo Beans
1/3 Cup Golden Raisins
1/4 Cup sliced Green Onions
1/2 Cup Chopped Red Onion
2 Tablespoons Red Wine Vinegar
2 Teaspoons Extra Virgin Olive Oil
1 Teaspoon Dijon Mustard
1/2 Teaspoon Salt
1/2 Teaspoon Pepper
3 Tablespoons Chopped Fresh Basil
3 Tablespoons Slivered Almonds- Toasted
Directions
In a medium saucepan, combine the chicken broth, box of rice and the barley and bring to a boil.
Once the ingredients are boiling, reduce heat and simmer for 30 minutes until all the liquid has evaporated.
Turn off the heat and let the rice mixture sit for 8 minutes.
In a large bowl, add the garbanzo beans, raisins, red and green onions and the cooled rice mixture. Toss to combine.
In a small bowl, whisk together the red vinegar, oil, mustard, salt and pepper; pour the vinaigrette over the rice mixture and gently toss again. Place in the refrigerator until chilled.
Before serving, sprinkle on the basil and almonds.