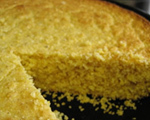 Prep: 10 min
Cook Time: 24 min
Total: 34 min
Serving: Makes 12 Servings
This rustic dinner bread is ideal served with hearty stews and soups. Both the barley and cornmeal give it wonderful texture that is ideal for dipping into broth and sauces.
Ingredients
1 cup cooked pearl barley
1 cup stone-ground cornmeal
1 cup all-purpose flour
1/2 cup whole kernel corn
1 tablespoon baking powder
1/2 teaspoon baking soda
1 tablespoon baking powder
1/4 teaspoon white pepper
1/2 cup plain yogurt
1 cup buttermilk
1 tablespoon frozen apple juice concentrate, thawed
2 egg whites
Directions
Preheat your oven to 350 degrees and grease a square 8x8x2-inch pan with cooking spray or butter.
Place the barley, cornmeal, flour, corn, baking powder, baking soda, salt and pepper into a bowl and stir well to combine. Add the yogurt, buttermilk, apple juice and egg white and continue to mix until blended.
Transfer the batter to the prepared pan and bake the bread for 35 minutes or until the top turns light brown. Enjoy warm.