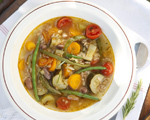 Prep: 10 min
Cook Time: 1 hr 15 min
Total: 1 hr 25 min
Serving: 4 Servings
A vegetarian pearled barley and fresh green bean soup enhanced with carrots, celery, zucchini and cherry tomatoes. Ladle hot into bowls and serve with some hearty peasant bread and a bottle of American Pinot Noir.
Ingredients
3 tablespoons olive oil
2 spring onions, chopped
3 cloves garlic, chopped
3 small carrots, diced
2 ribs celery, diced
2 teaspoon fresh rosemary, chopped
2 bay leaves
juice from 1/2 lemon
1/2 glass white wine
8 cups vegetable stock
1 cup pearled barley
1 zucchini, cut in quarters
10 cherry tomatoes, divided in half
2 cups fresh green beans
1 cup fresh borlotti beans, removed from pods and preboiled for 20 min
Directions
Place the olive oil in a soup pot over medium heat. Once the oil begins to shimmer, add the onion and garlic and sauté for 5 minutes.
Stir in the carrots, celery, rosemary, bay leaves, lemon juice and white wine and cook the mixture for 2 minutes, stirring frequently. Pour in the stock and simmer for 30 minutes.
Add the barley, zucchini and tomatoes and continue to cook for an additional 30 minutes before stirring in the green and borlotti beans and simmering for 10 minutes more.
Remove the bay leaves from the mixture and discard. Season the soup to taste with some salt and pepper and then serve immediately.