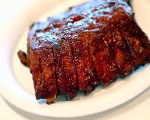 Prep: 10 min
Cook Time: 1 hr
Total: 1 hr 10 min
Serving: 6-8 servings
Southern style barbecue ribs.
Ingredients
8 pounds ribs
3 tablespoons lemon juice
1/2 teaspoon pepper
1/2 teaspoon salt
1/2 cup cooking oil
4 cups tomato sauce
3/4 cup Worcestershire sauce
1/4 teaspoon garlic powder
1 cup butter
2 tablespoons vinegar
2 tablespoons lemon juice
1/4 teaspoon red pepper
Directions
Sprinkle the ribs with 3 tablespoons of lemon juice and the pepper. Set for 1 hour. Rub with oil and place over the fire. Sear both sides.
Combine the remaining ingredients in a saucepan and simmer for 20 minutes.
Use the sauce to baste the ribs while cooking. Cook until the meat begins to separate from the bone.