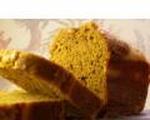 Prep: 20 min
Cook Time: 45 min
Total: 1 hr 5 min
Serving: 1 Loaf
Looking for something new to make aside from your regular banana bread? Look no further--this banana pumpkin bread will soon become a family favorite.
Ingredients
2 ripe bananas, mashed
2 eggs
1 1/3 cups canned pumpkin
1/3 cup vegetable oil
1/2 cup white sugar
2 1/2 cups all-purpose flour
1 tsp baking powder
1 tsp baking soda
1/2 tsp salt
1/2 cup honey
2 tsp pumpkin pie spice
1 tsp ground cinnamon
1 cup walnuts (optional)
Directions
Preheat oven to 350 F degrees and grease an 9x5 inch loaf pan.
In a large bowl, stir together the mashed banana, eggs, oil, pumpkin, honey and sugar. In a separate bowl, combine the flour, baking powder, baking soda, salt, pie spice and cinnamon.
Stir dry mixture into the banana mixture until just combined. Mix in walnuts if desired. Pour batter into the prepared pan.
Bake for 45 minutes or until a toothpick inserted into the center of the loaf comes out clean. Allow loaf to cool in the pan for 10 minutes before moving to a wire rack to cool completely.