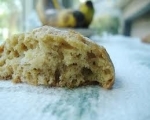 Prep: 10 min
Cook Time: 10 min
Total: 20 min
Serving: varies
Give your kids a back-to-school advantage this year with these banana-packed banana oat cookies.
Ingredients
2 1/2 cups rolled oats
1/2 tsp. salt
1 tsp. cinnamon
1/4 cup vegetable oil
3/4 cup chopped walnuts
2 1/4 cup sliced bananas, lightly packed
Directions
Preheat oven to 400 degrees F.
In a large bowl, combine rolled oats, salt, and cinnamon.
Coat with oil and set aside.
Fork-mash the bananas and mix with nuts.
Add the banana nut mixture to the oats mixture and combine well.
Divide 12 mounds of dough onto 2 ungreased cookie sheets.
Flatten dough with a spatula until they are about 5 inches across.
Bake on a high rack for 10 minutes.
Remove from the oven and re-flatten the cookie dough.
Return cookies to the oven and bake another 8 to 10 minutes.