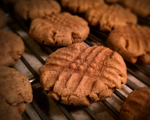 Prep: 25 min
Cook Time: 12 min
Total: 37 min
Serving: 4 dozen cookies
Ever heard of a comfort cookie? These hand-shaped treats will put a smile on your face with their rustic appearance and homey goodness.
Ingredients
1 cup packed brown sugar
1/2 cup granulated sugar
1/2 cup butter or margarine, softened
1/2 cup mashed, very ripe medium banana
1 egg
2-1/2 cups all-purpose flour
1 cup yellow cornmeal
1 teaspoon baking powder
1/2 teaspoon salt
1 teaspoon ground cinnamon
1/4 cup granulated sugar (for topping)
1/2 teaspoon ground cinnamon (for topping)
Directions
Preheat oven to 375 degrees.
Spray a cookie sheet with nonstick cooking spray.
In a large bowl, beat the brown sugar, granulated sugar, butter, banana and egg with an electric mixer, or mix with a spoon.
Mix in the flour, cornmeal, baking powder, salt and cinnamon. If the dough feels too soft to shape into cookies, refrigerate, covered, for up to 2 hours.
In a small bowl, mix the granulated sugar with the cinnamon to be used as the topping.
Shape dough into 1-1/4 inch balls and place approximately 3 inches apart on the cookie sheet. Slightly flatten with a fork in a crisscross pattern. Sprinkle with the cinnamon-sugar topping.
Bake the cookies for 10-12 minutes or until light brown. Remove from cookie sheet and cool on a wire rack.