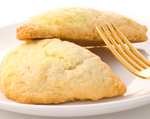 Prep: –
Cook Time: 15 min
Total: 15 min
Serving: Makes 8 to 10 scones
Start your day with a double shot of coffee and sip a mugful while nibbling on a banana coffee scone.
No matter what kind of coffee you use—brewed or powder—make sure it's fresh. As you experiment with cooking with coffee, you'll come up with many other ways to use it in recipes, from adding flavor to cookies and cakes, to sprinkling some of the powder on ice cream or yogurt. The choice is up to you!
Ingredients
2 cups whole wheat flour (or mixture of half whole wheat and half all-purpose flour)
4 teaspoons baking powder
1/2 teaspoon kosher salt
1/4 cup granulated sugar
1/2 cup unsalted butter
1/2 cup ripe banana, mashed (1 to 2 bananas)
1/4 cup low fat milk
1/4 cup strong black coffee at room temperature
1 teaspoon pure vanilla extract
Directions
Heat oven to 425 degrees F. and lightly grease a baking sheet. In a large bowl, whisk together flour, baking powder, salt, and sugar. Using a pastry blender, or two forks, cut in butter until mixture looks like breadcrumbs.
In a small bowl, whisk together banana, milk, coffee, and vanilla. Add to dry mixture, mixing gently to make a slightly wet dough.
Turn dough out on a lightly floured counter, and knead gently for about 30 seconds, forming it into a round, flat disk. With a rolling pin, roll dough to a 1/2-inch thickness.
Cut into evenly sized triangles (cut like you would a pie) and place on a baking sheet. Bake 15 minutes, or until lightly browned and the scones sound hollow when tapped.