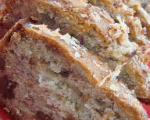 Prep: 15 min
Cook Time: 50 min
Total: 1 hr 5 min
Serving: 2 loaves
A deliscious bread, great for dessert or anytime!
Ingredients
2 cups flour
2 teaspoons baking soda
1/2 teaspoon salt
3 eggs
1/2 teaspoon lemon extract or lemon juice
1/4 cup sour cream
1 cup sugar
1 cup finely chopped nuts
1 1/2 cups sliced banana
1/2 cup shredded coconut
Directions
Preheat oven to 325 degrees Fahrenheit. Lightly butter 2 loaf pans.
Sift together the flour, baking soda and salt in a large bowl.
Using a blender to mix together the eggs, butter, lemon extract, sour cream and sugar. Pour into the flour mix, mix thoroughly.
Mix in the nuts, banana and coconut.
Pour into the prepared pans and bake for 45-50 minutes.