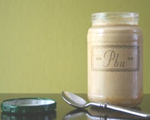 Prep: 10 min
Cook Time: 5 min
Total: 15 min
Serving: Makes about 8 pints
If apple butter is a favorite in your family, try this banana, cherry and raisin blend.
Ingredients
3 cups (about 10 medium) mashed bananas
1/4 cup lemon juice
1/4 cup finely chopped maraschino cherries
1/4 cup chopped small golden raisins
4 cups brown sugar
1/2 teaspoon ground cinnamon
1/4 teaspoon fresh-ground nutmeg
1 bottle (6 ounces) liquid pectin
Directions
Put the bananas, lemon juice, cherries, raisins, sugar, cinnamon, and nutmeg into a saucepan and place over high heat.
Let the mixture boil for 1 minute, stirring constantly, and then remove from the heat and add the pectin.
Stir the mixture to combine and then transfer to glass jars with tightly-fitted lids.