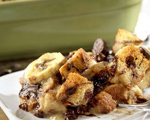 Prep: 10 min
Cook Time: 25 min
Total: 35 min
Serving: 6 Servings
Instead of using plain bread in this recipe, use a cinnamon swirl variety which will add additional flavor and attractive presentation to this simple dessert dish.
Ingredients
8 slices Cinnamon Swirl Bread, cut into cubes (about 5 cups)
2 large bananas, cut into 1/4-inch-thick slices
3/4 cup semi-sweet chocolate pieces
1-1/2 cups heavy cream
3 eggs
1/4 cup packed brown sugar
2 teaspoons vanilla extract
Butter to grease pan
Directions
Preheat your oven to 350 degrees and lightly grease a baking dish with butter.
Put the bread cubes, bananas and chocolate pieces into the prepared dish. In a separate bowl, whisk the heavy cream, eggs, brown sugar and vanilla extract together until thoroughly blended and then pour over the bread mixture.
Stir and gently toss the mixture until the bread is coated and then place in the oven for 25 minutes. To ensure the dessert is done, place a toothpick in the middle of the pudding. If it comes out clean remove the pudding from the oven and serve.